Games - Gold Miner: Special Edition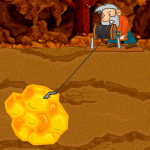 Gold Miner: Special Edition
Crane style game where you must gather gold, diamonds and other objects for cash. You must meet a certain cash goal to move forward to the next level. Between each level there is a store where you can buy randomly generated items such as dynamite, diamond polisher, lucky clover and strength for random amounts of money. The strength you can buy at the store is not the same intensity of strength you can find in bags on the levels themselves.
Gold Miner: Special Edition Champion: Mistix
Score: 320188 in 153:42
Highest score of all time: Mistix Score: 320188 in 153:42
Who's Online
2 Guests, 0 Users

Wise Words
That's the second biggest monkey head I've ever seen! -Guybrush Threepwood in The Secret of Monkey Island | Read More...


© 2009-2017 Kokaro. All rights reserved. All trademarks and copyrights held by respective owners. All intellectual properties contained within third-party flash games on Kokaro are owned by their original developers and designers.
Request impermissible game removal