Games - Zombie Golf Riot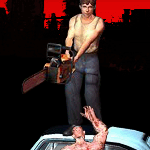 Zombie Golf Riot
What's more entertaining than golfing a zombie head with a chainsaw? Probably watching paint dry these days. Anyways, you know the drill, try your angle, speed and ultimately, luck, at seeing how far you can hit the zombie head. by Kewlbox.com.
Zombie Golf Riot Champion: BoilerMaker777
Score: 7237 in 02:31
Highest score of all time: BoilerMaker777 Score: 7237 in 02:31
Who's Online
6 Guests, 0 Users

Wise Words
War. War never changes. -Narrator in Fallout | Read More...


© 2009-2019 Kokaro. All rights reserved. All trademarks and copyrights held by respective owners. All intellectual properties contained within third-party flash games on Kokaro are owned by their original developers and designers.
Request impermissible game removal