Games - Power Driver 2.0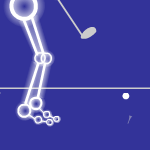 Power Driver 2.0
Probably one of the most simplest games you can play. Click the swing button to start, click it again far right for power, then click once more closest to the white for accuracy. There is a hard cap on this game, but it's extremely rare to reach it.
Power Driver 2.0 Champion: TucanOG
Score: 416 in 00:10
Highest score of all time: Tasos Score: 421 in 00:26
Who's Online
31 Guests, 0 Users

Wise Words
Do a barrel roll! -Peppy from Starfox 64 | Read More...


© 2009-2020 Kokaro. All rights reserved. All trademarks and copyrights held by respective owners. All intellectual properties contained within third-party flash games on Kokaro are owned by their original developers and designers.
Request impermissible game removal