Games - Power Arrow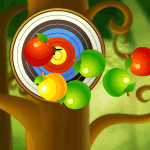 Power Arrow
Work your way through many levels of increasing speed by holding the mouse button to draw the arrow back, and releasing it to shoot it at the target. This is the medium difficulty version of the game.
Power Arrow Champion: NippleHair
Score: 368 in 03:14
Highest score of all time: Fiston Score: 471 in 05:43
Who's Online
43 Guests, 0 Users

Wise Words
You have died of dysentery. -Announcement in The Oregon Trail | Read More...


© 2009-2018 Kokaro. All rights reserved. All trademarks and copyrights held by respective owners. All intellectual properties contained within third-party flash games on Kokaro are owned by their original developers and designers.
Request impermissible game removal