Games - Minotaur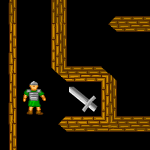 Minotaur
A decidedly old-school maze-dungeon crawler with enemies, swords, shields, traps, keys, doors and more. Each game is different... which is sometimes a bad thing. by TOG the Mighty for Lil' Games.
Minotaur Champion: mark13ox
Score: 763 in 48:05
Highest score of all time: mark13ox Score: 763 in 48:05
Who's Online
82 Guests, 0 Users

Wise Words
I am Error. -Error in Zelda II: The Adventure of Link | Read More...


© 2009-2020 Kokaro. All rights reserved. All trademarks and copyrights held by respective owners. All intellectual properties contained within third-party flash games on Kokaro are owned by their original developers and designers.
Request impermissible game removal