Games - Major Slant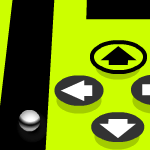 Major Slant
Hover over the the arrows to tip the table in that direction and to move the ball. Make sure not to go too far out of bounds, otherwise you will need to start over. Try to get to the end in the fastest time possible. by Ultimate Arcade.
Major Slant Champion: CakeztheHusky
Score: 3554 in 04:31
Highest score of all time: CakeztheHusky Score: 3554 in 04:31
Who's Online
3 Guests, 0 Users

Wise Words
Would you kindly? -Frank Fontaine in Bioshock | Read More...


© 2009-2019 Kokaro. All rights reserved. All trademarks and copyrights held by respective owners. All intellectual properties contained within third-party flash games on Kokaro are owned by their original developers and designers.
Request impermissible game removal