Games - Magic Touch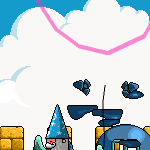 Magic Touch
You are a wizard, a wizard that draws shapes... too kill floating knights that want to storm your castle. The real question is where is your castles knights? Or archers even. by Nitrome.
Magic Touch Champion: lefty24
Score: 4480 in 03:22
Highest score of all time: lefty24 Score: 4480 in 03:22
Who's Online
7 Guests, 0 Users

Wise Words
It's dangerous to go alone! Take this. -Old Man in The Legend of Zelda | Read More...


© 2009-2019 Kokaro. All rights reserved. All trademarks and copyrights held by respective owners. All intellectual properties contained within third-party flash games on Kokaro are owned by their original developers and designers.
Request impermissible game removal