High Scores for Animal Connect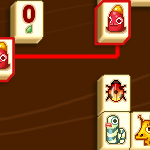 Animal Connect
Highest score of all time: trang Score: 164100 in 21:40
Animal Connect Champion:
#1 —
Parrot
— Score: 98720 in 18:49
#2 — yuki — Score: 70250 in 12:12
#3 — Styckman — Score: 2300 in 01:54
#4 — taymay626 — Score: 2000 in 02:07
4 scores have been submitted for this game so far.
Note: High scores for specific games will reset once 150 scores are submitted.
Note: Champions of specific games will be granted 10 gold pieces every time somebody plays the game they are a champion of (including themselves).
Who's Online
6 Guests, 0 Users

Wise Words
Didn't we have some fun though? Remember when the platform was sliding into the fire pit and I said 'Goodbye' and you were like 'NO WAY!' and then I was all 'We pretended we were going to murder you'? That was great. -GLaDOS in Portal | Read More...


© 2009-2013 Kokaro. All rights reserved. All trademarks and copyrights held by respective owners. All intellectual properties contained within third-party flash games on Kokaro are owned by their original developers and designers.
Request impermissible game removal