Games - Formation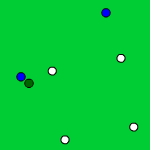 Formation
Dodge, dodge... and DODGE! Sometimes you just want to be cocky and pick-up the white orbs. It does clear the screen for a bit, but probably not worth it in the long run. by Brian Cable.
Formation Champion: NippleHair
Score: 12288 in 08:58
Highest score of all time: mark13ox Score: 100436 in 70:47
Who's Online
13 Guests, 0 Users

Wise Words
Hmm, that's one 'Doomed' Space Marine. -Duke Nukem in Duke Nukem 3D | Read More...


© 2009-2019 Kokaro. All rights reserved. All trademarks and copyrights held by respective owners. All intellectual properties contained within third-party flash games on Kokaro are owned by their original developers and designers.
Request impermissible game removal