Games - Flight of the Hamsters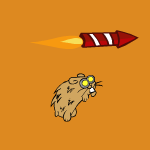 Flight of the Hamsters
You know the drill. Launch your animal-thing, in this case, hamsters and rack up distance by flying into the different objects. Who knew hamsters could glide? by Codename: Kids Next Door.
Flight of the Hamsters Champion: mark13ox
Score: 1687 in 07:22
Highest score of all time: puzzlemaster Score: 2501 in 11:17
Who's Online
10 Guests, 0 Users

Wise Words
Would you kindly? -Frank Fontaine in Bioshock | Read More...


© 2009-2019 Kokaro. All rights reserved. All trademarks and copyrights held by respective owners. All intellectual properties contained within third-party flash games on Kokaro are owned by their original developers and designers.
Request impermissible game removal