Games - Bum's Rush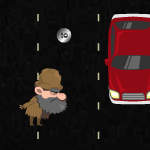 Bum's Rush
Kind of like Frogger, except you are a bum, collect coins and move back and forth out of traffic. Okay, so maybe not like frogger at all. Use the arrow keys to move your degenerate around. Keep a look out for coffee, alchohol, and $1 bills. by Brian Frisk.
Bum's Rush Champion: mark13ox
Score: 53 in 13:07
Highest score of all time: mark13ox Score: 53 in 16:33
Who's Online
6 Guests, 0 Users

Wise Words
Do a barrel roll! -Peppy from Starfox 64 | Read More...


© 2009-2019 Kokaro. All rights reserved. All trademarks and copyrights held by respective owners. All intellectual properties contained within third-party flash games on Kokaro are owned by their original developers and designers.
Request impermissible game removal