Games - Breakout 360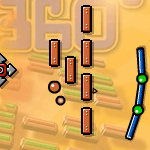 Breakout 360
A spin (literally) on the classic Breakout-style game. Move your paddle in full 360 degrees to break the center bricks.
Breakout 360 Champion: drath
Score: 3883 in 04:15
Highest score of all time: lefty24 Score: 3606 in 07:50
Who's Online
7 Guests, 0 Users

Wise Words
Hey dudes, thanks for rescuing me! Let's go for a burger... Ha! Ha! Ha! -The President of the United States in Bad Dudes | Read More...


© 2009-2017 Kokaro. All rights reserved. All trademarks and copyrights held by respective owners. All intellectual properties contained within third-party flash games on Kokaro are owned by their original developers and designers.
Request impermissible game removal