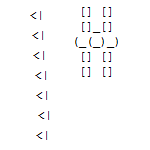 ASKI
What a clever play on words! Play as a skier in this ASCII-visual style game. Keep your skier away from the sides.
ASKI Champion: TucanOG
Score: 2625 in 00:52
Highest score of all time: Tasos Score: 3701 in 00:53


© 2009-2018 Kokaro. All rights reserved. All trademarks and copyrights held by respective owners. All intellectual properties contained within third-party flash games on Kokaro are owned by their original developers and designers.
Request impermissible game removal