Games - 20 Seconds Challenge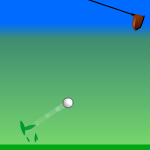 20 Seconds Challenge
Also known as 20 Sekunden Golf Challenge. Wack that golf ball as hard and as fast as you can for 20 seconds. Click and drag your golf club across your screen as fast as you can to get the best distance.
20 Seconds Challenge Champion: Youku
Score: 22150 in 00:24
Highest score of all time: jmark1996 Score: 23157 in 00:25
Who's Online
55 Guests, 0 Users

Wise Words
You exist because we allow it, and you will die because we demand it. -Sovereign & Virgil in Mass Effect | Read More...


© 2009-2019 Kokaro. All rights reserved. All trademarks and copyrights held by respective owners. All intellectual properties contained within third-party flash games on Kokaro are owned by their original developers and designers.
Request impermissible game removal